The Equine First Pioneer Pass – Exclusive NFTs and Perks to Celebrate the First Activated Horses!
April, 18 2023
Equine's "First Pioneer Pass" is our first game pass that will commemorate the activation of the first generation of Equine Pioneer horses, with a sale offering two exclusive NFTs, namely the "First Pioneer Pass" NFT and the "Racing Silks NFT".
As a pass holder, you'll have access to a range of perks by using 10 Equine Utility Points which will be replenished to every pass each month. These points can be redeemed for various perks, such as complimentary race entries, discounted breeding services, stud vouchers, or skin redemptions. All details in FAQ.
There are two bonus perks included in this pass that will not be available in standard Game Passes offered in the future: an extended duration of 16 months and the bundling of an additional Racing Silks NFT, a unique set of silk colours which will identify your stable by applying your colours to your jockey (and horses' accessories when applicable).
With a virtually open-volume (set with a hard-cap maximum supply of 14,125 Passes), limited-time sale and a price of 250 ADA, this pass is a must-have for Equine NFT lovers. Early minting for Equine Pioneer Horse holders will take place on April 21st and 22nd, with the public sale starting on April 23rd and running until May 31st.
Ensure that you mint your First Pioneer Pass(es) during the period of the sale in April to receive your Racing Silks NFT as a free bundle. Please note that while the Racing Silks NFTs will be made available for purchase at a later time, they will no longer be offered as a complimentary package after sale window during the month of April – I.E. the sale during May will be for Passes only and will not include any bundled Racing Silks NFTs.
Please be sure to follow our official Equine Discord announcement channel and Twitter account for sale instructions, watch out for scams. Minting services for this sale will be provided by Fencemaker, and direct links to the minting page will be announced in due course by our official channels on Twitter and Discord (never through DMs!).
What is the First Pioneer Pass?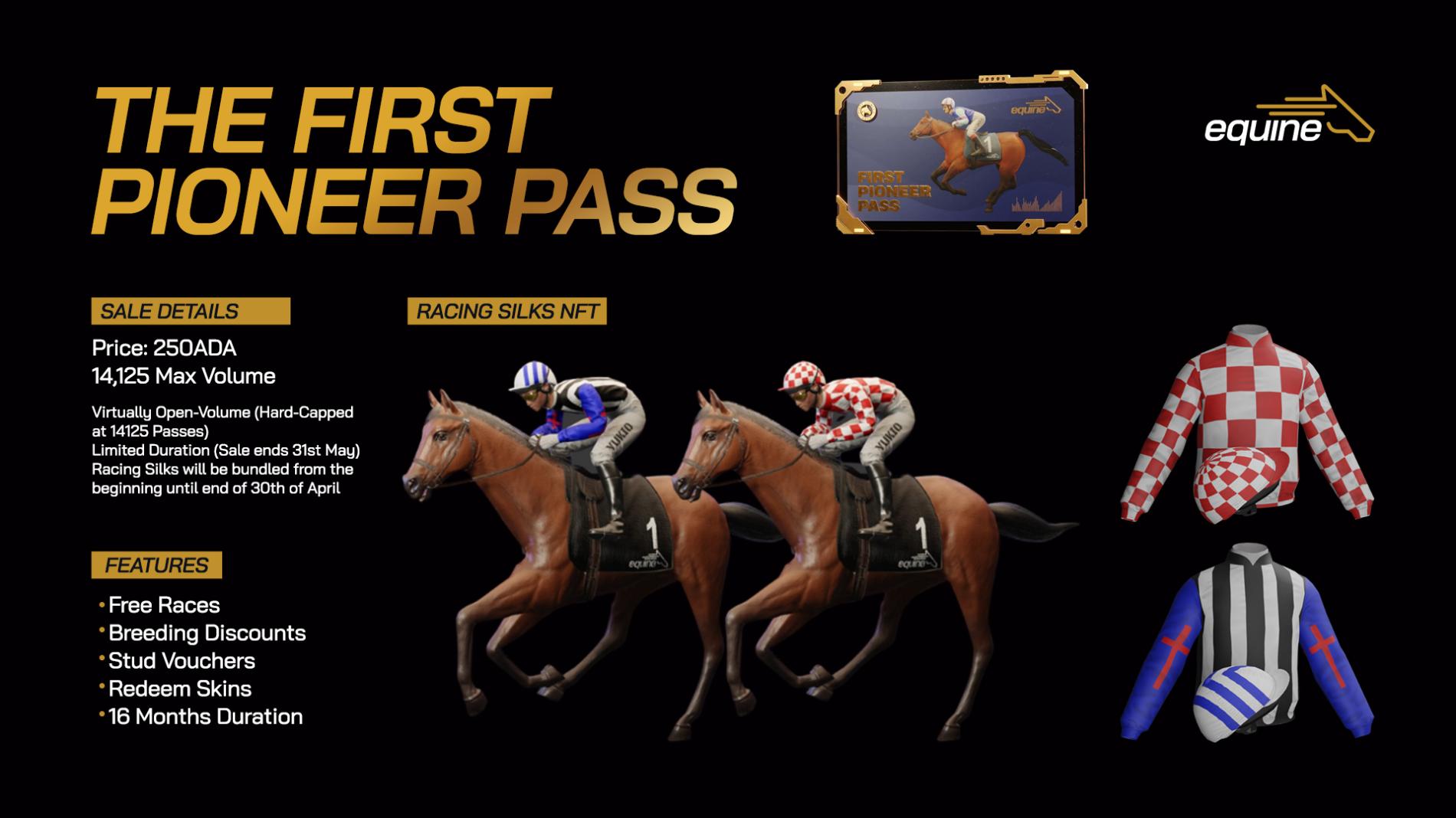 The "First Pioneer Pass" is more than just a regular NFT, as it serves as a utility NFT that pays tribute to the first Equine Pioneer horses and their pivotal role in the unfolding of the Equine game. The pioneer pass is special for two reasons, it has a utility duration of 16 months that is longer than standard game passes to be sold in the future, and the Equine Racing Silk NFTs which will be bundled with sold Passes during the initial sale period! Once activated, each First Pioneer Pass will have 10 Equine Utility Points that can be used every month for range of perks related to racing, breeding and skin redemptions!
What's inside 👀
First Pioneer Pass NFT with Extended Duration of 16 months
Racing Silks NFT
Equine Utility Points
Examples of perks which may be possible to be redeemed with the 10 Equine Utility Points per pass per month:
3 points: Pass-Holder Exclusive Free Race Entry
4 points: Breeding Discount
6 points: Stud Voucher Cap Increase
6 points: Pass Exclusive Skins
Free Races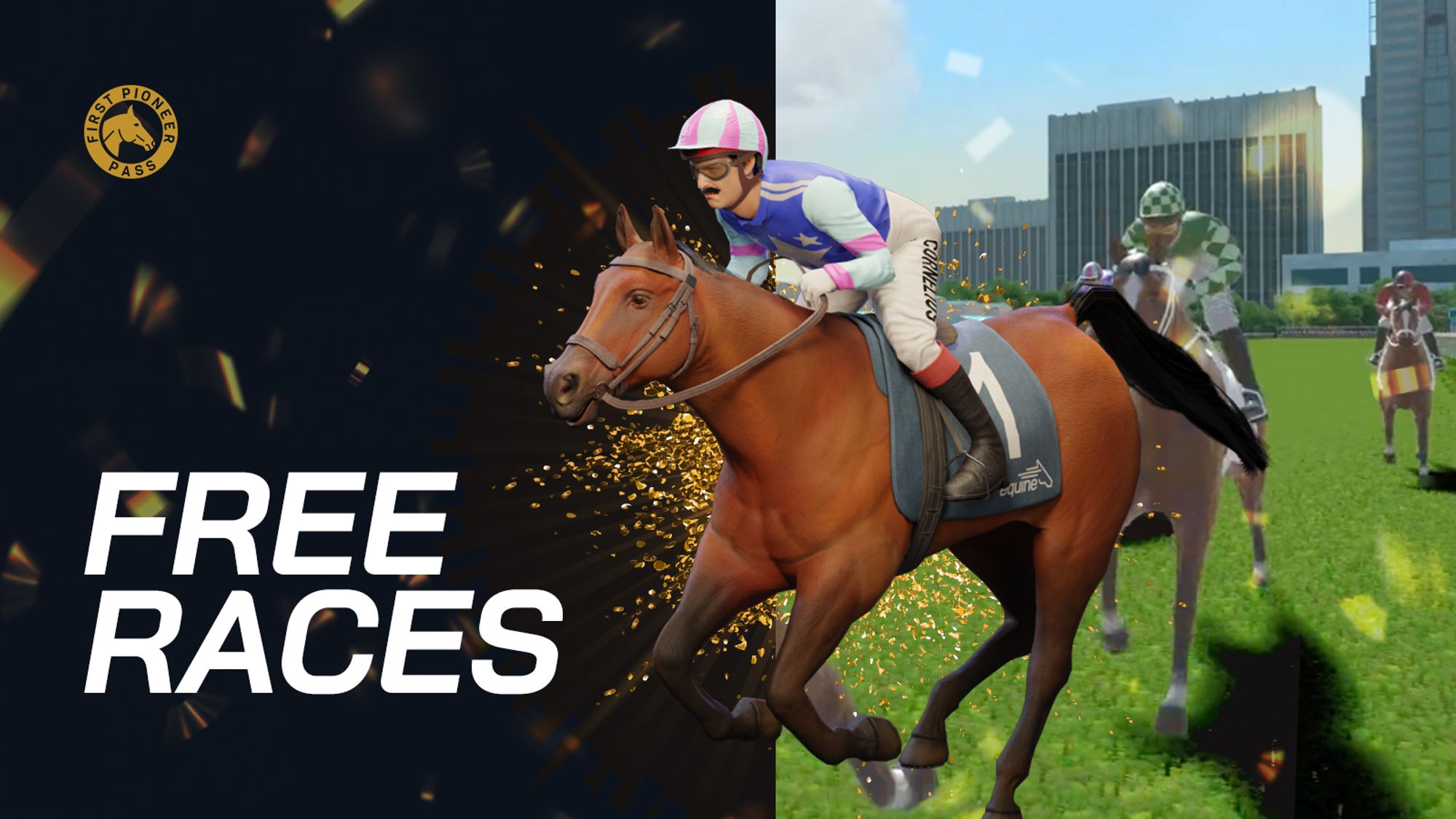 The First Pioneer Pass offers horse owners an excellent opportunity to test their strategies. While standard Free Races will continue to be held for all horse owners, this feature provides access to an additional set of Pass-Holder Free Races that are strictly for pass holders and allows more opportunities for players to experiment with different racing strategies and gain a deeper understanding of their horses' strengths and weaknesses. By using the free race entries, players can gain the experience they need to allow their horses to become top performers, and help players determine their horses' hidden stats faster.
Overall, this perk brings significant value to players, enabling them to refine their tactics, improve their chances of success, and develop a deeper connection with their horses and jockeys. Players have the potential to race up to three times per month per pass using their Equine Utility Points. Ultimately, trainers can gain a wealth of knowledge about their horses and jockeys, allowing them to make more informed decisions and improve their chances of winning races, as well as winning prizes.
Breeding Discount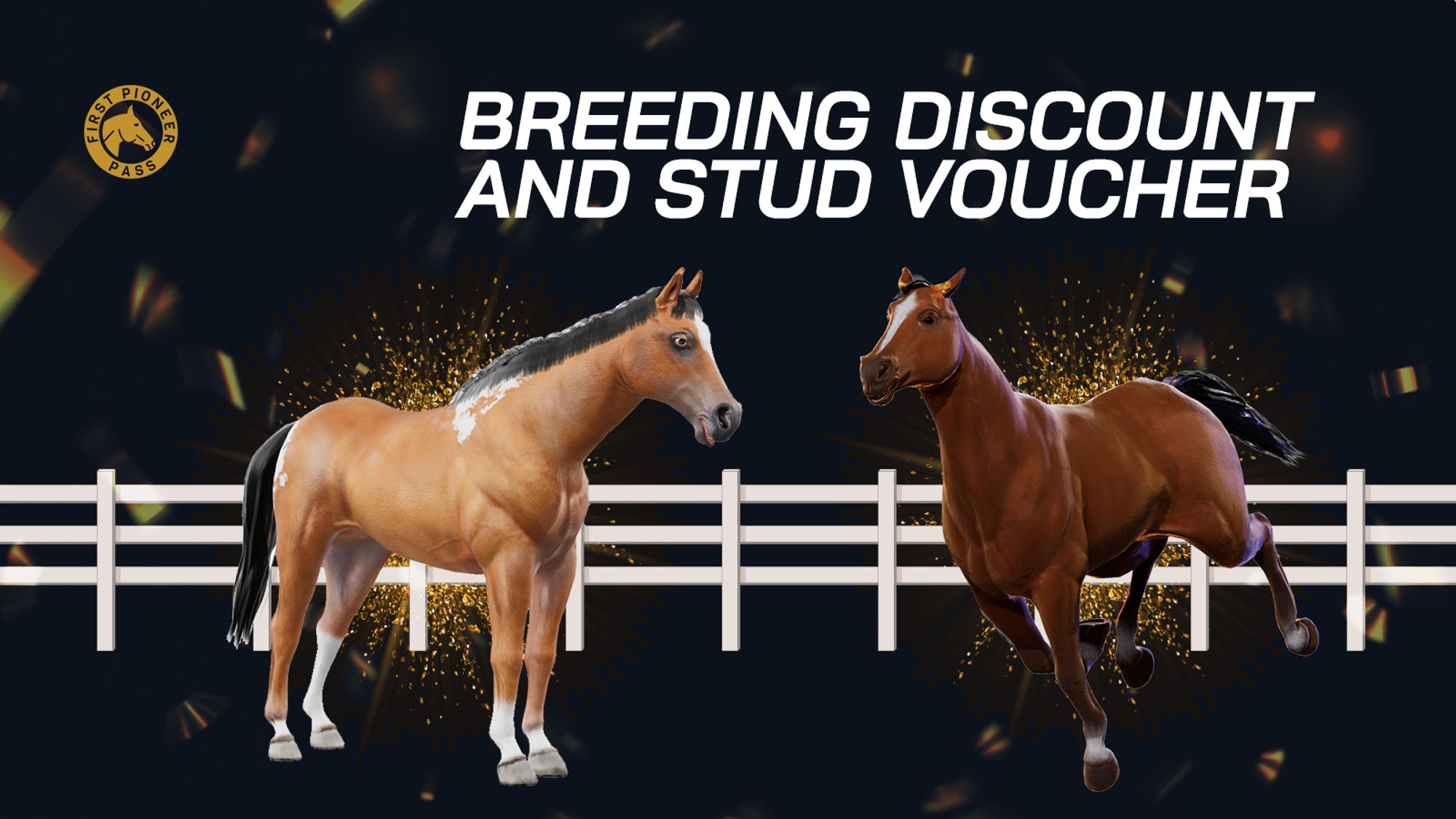 The First Pioneer Pass offers a 10% breeding fee discount option to its holders. To use the breeding discount, pass holders would need to exchange 4 Equine Utility Points per breeding. A breeding discount can be stacked with additional points, which means that with 40 points, the owner can get one free breeding per month.
For breeders, the First Pioneer Pass brings massive advantages that can help take their breeding program to new heights.
Stud Voucher Cap Increase
One of the most significant benefits is the ability for pass holders to produce additional foals from their best stallions. This exclusive feature not only helps breeders increase the size of their breeding program, but it also allows them to experiment with different breeding combinations and strategies.
By exchanging 6 Equine Utility Points, pass holders can increase the cap of one of their breeding stallions' stud vouchers per month to 6 covers (instead of the normal cap of 5), granting an additional cover from the stallion it is applied to, for the month.
Owners can benefit from this perk by either using this additional cover in-house, or selling the extra produced stud voucher to a breeder who is interested in the cover. This can be an excellent chance for stallion owners to find mutual opportunities with other breeders.
Redeem Skins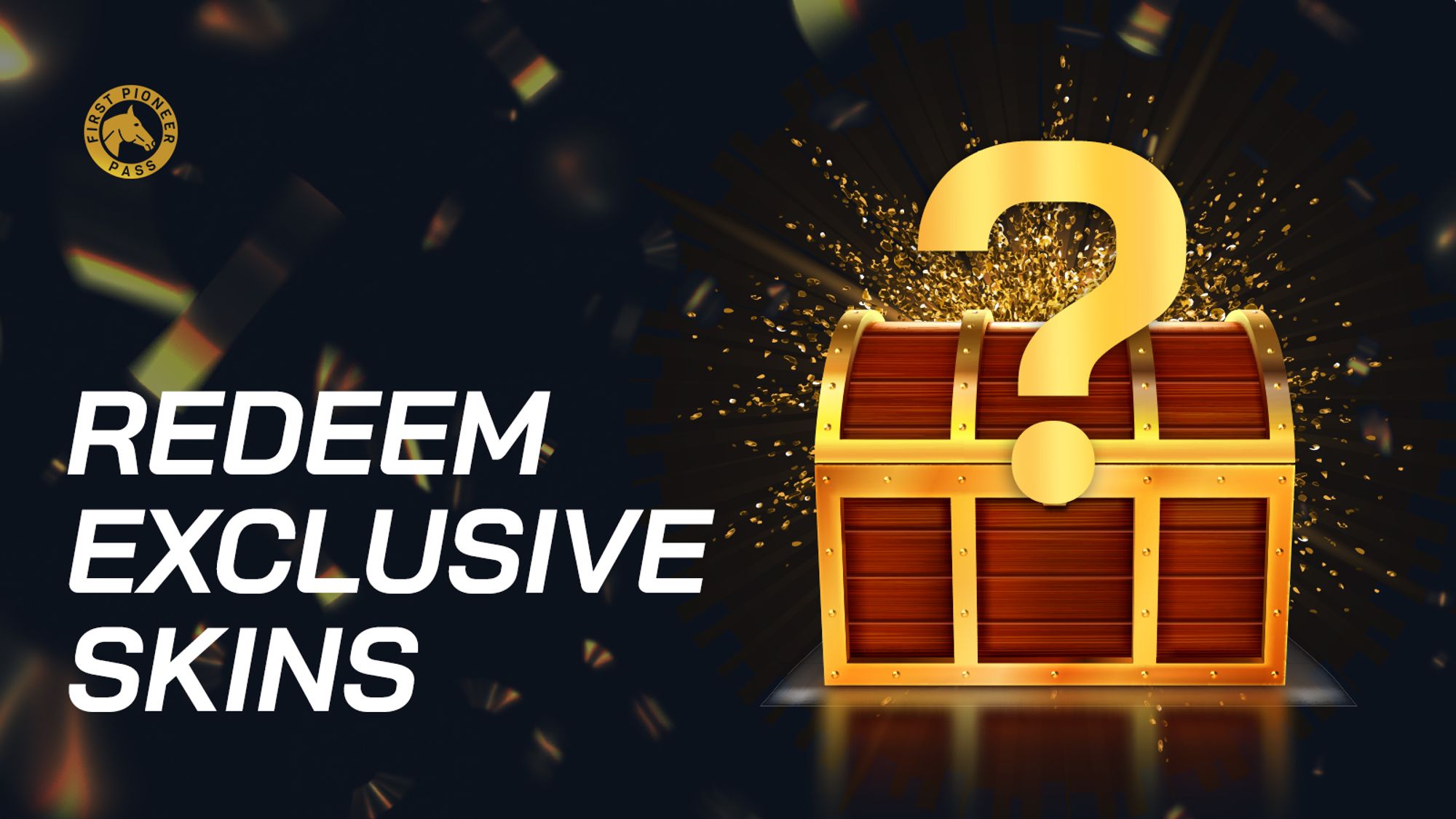 The First Pioneer Pass offers horse owners an exciting opportunity to acquire pass exclusive NFT skins for their Equine collection. These NFT skins allow players to differentiate their horses and jockeys from others. For collectors and players who value the unique experience of owning exclusive NFT skins, getting an Equine Pioneer Pass is a great way to acquire them.
What are the Bonus Perks?
Extended 16-Month Duration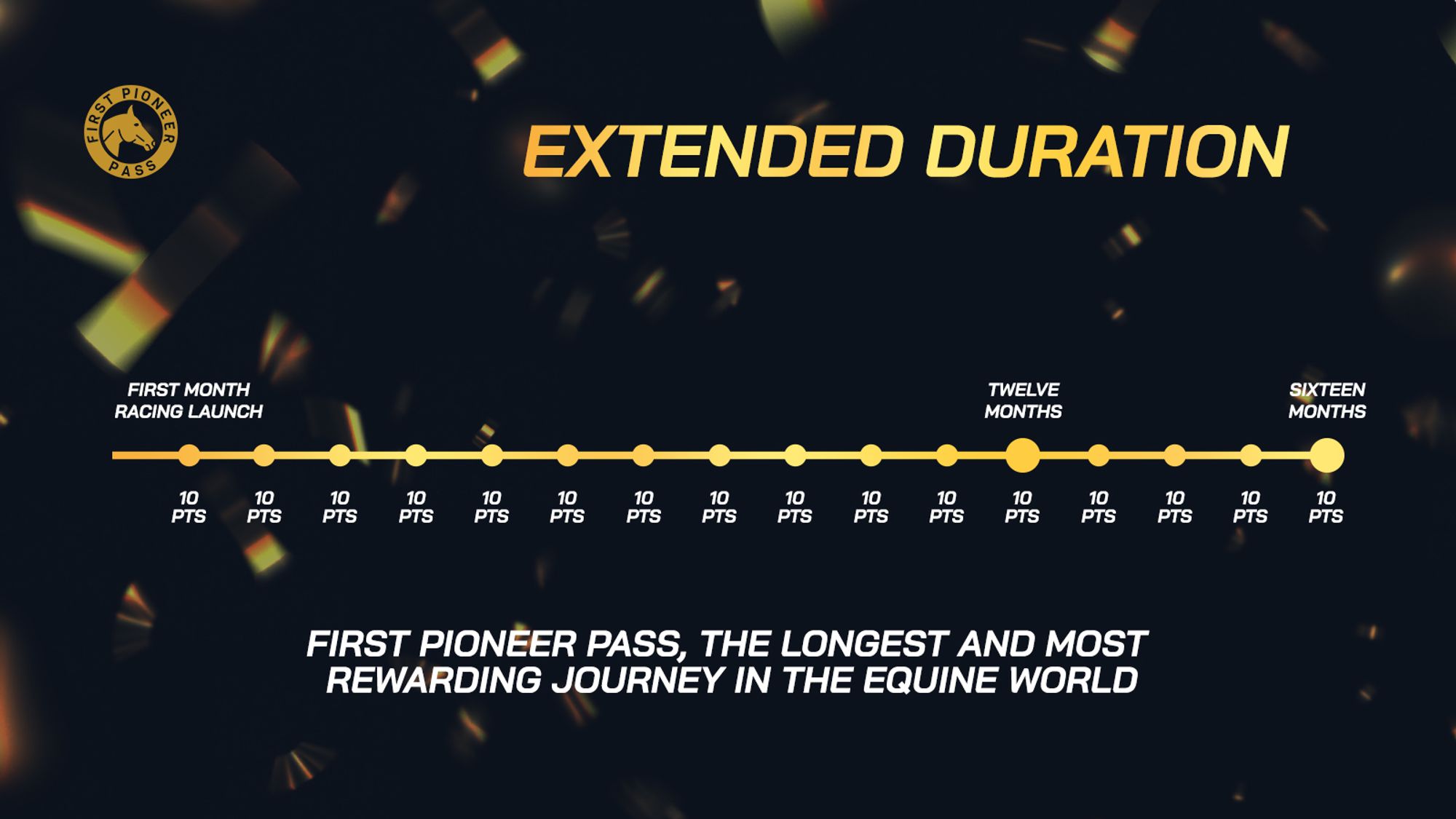 The First Pioneer Pass offers a unique advantage in that it has an extended duration of 16 months, unlike the passes that will follow. This longer duration means that you'll have even more time to enjoy all of the perks and benefits that come with the pass, including the exclusive access to races and stud vouchers, the breeding fee discount, and skin redemptions.
With 16 months of access, you'll have plenty of time to build your Equine collection, experiment with breeding strategies, and give your horses plenty of experience on the track.
Racing Silks NFT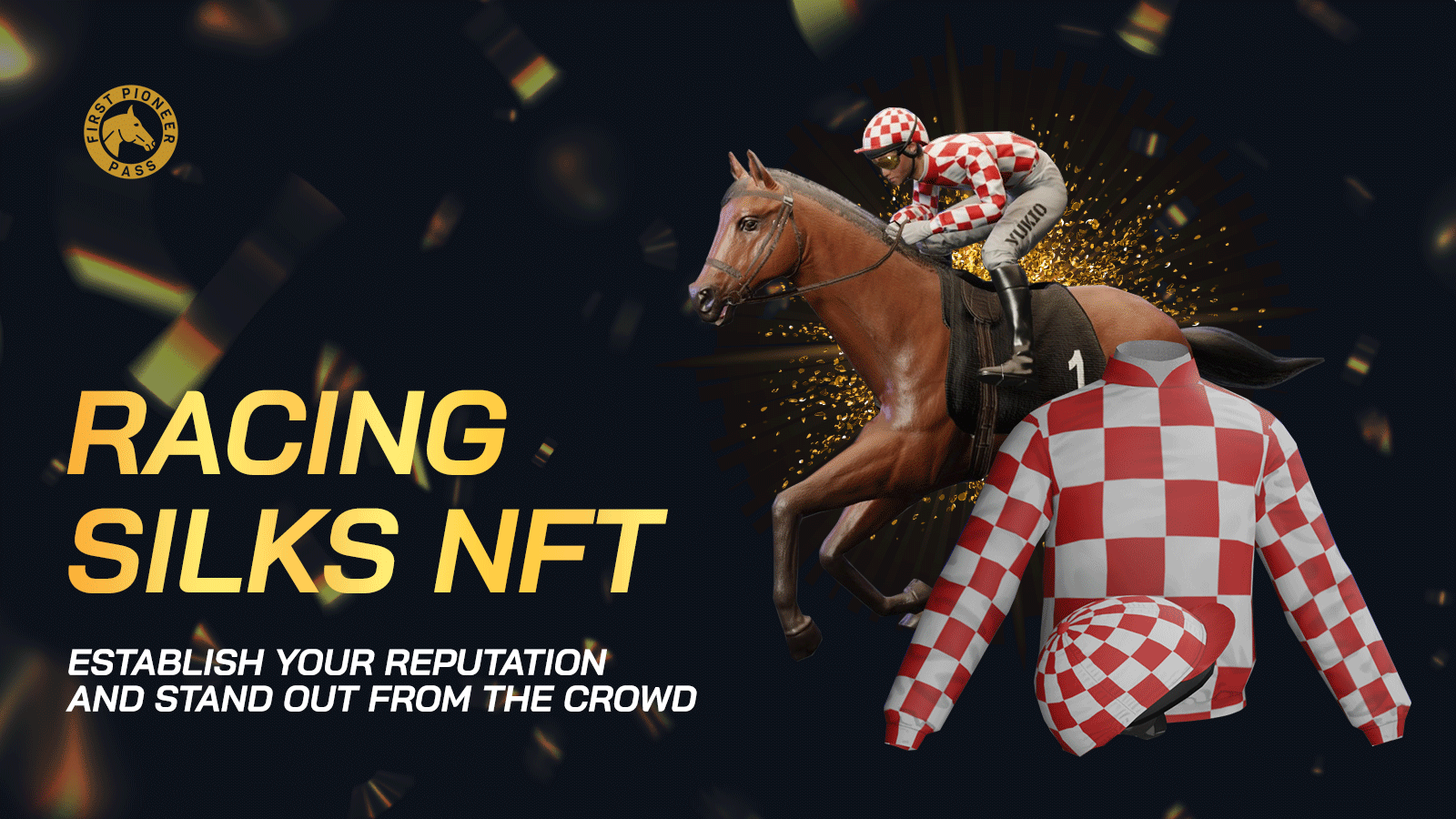 Racing Silks have always been a symbol of prestige and status in the world of horse racing. They are worn by jockeys during races to help identify the horses they are riding and also serve as a form of branding for the stable they belong to.
The First Pioneer Pass offers owners a unique set of one-of-a-kind Racing Silks NFTs that are randomly allocated to buyers (during the eligible window) at the time of sale. These silk colours not only offer a prestigious look, but they also provide practical benefits during races. With your own set of silk colours, you can easily track your horse's progress, and spectators and jockeys will be able to identify your horse easily during races.
These NFTs are free to be traded, allowing stables to search for and trade their preferred Racing Silks NFT, and they can also be treated as a collectible. Plus, the silk and cap colours on the horses' accessories add an extra level of detail to the immersive horse racing experience depending on the jockey mounted on the horse.
Minting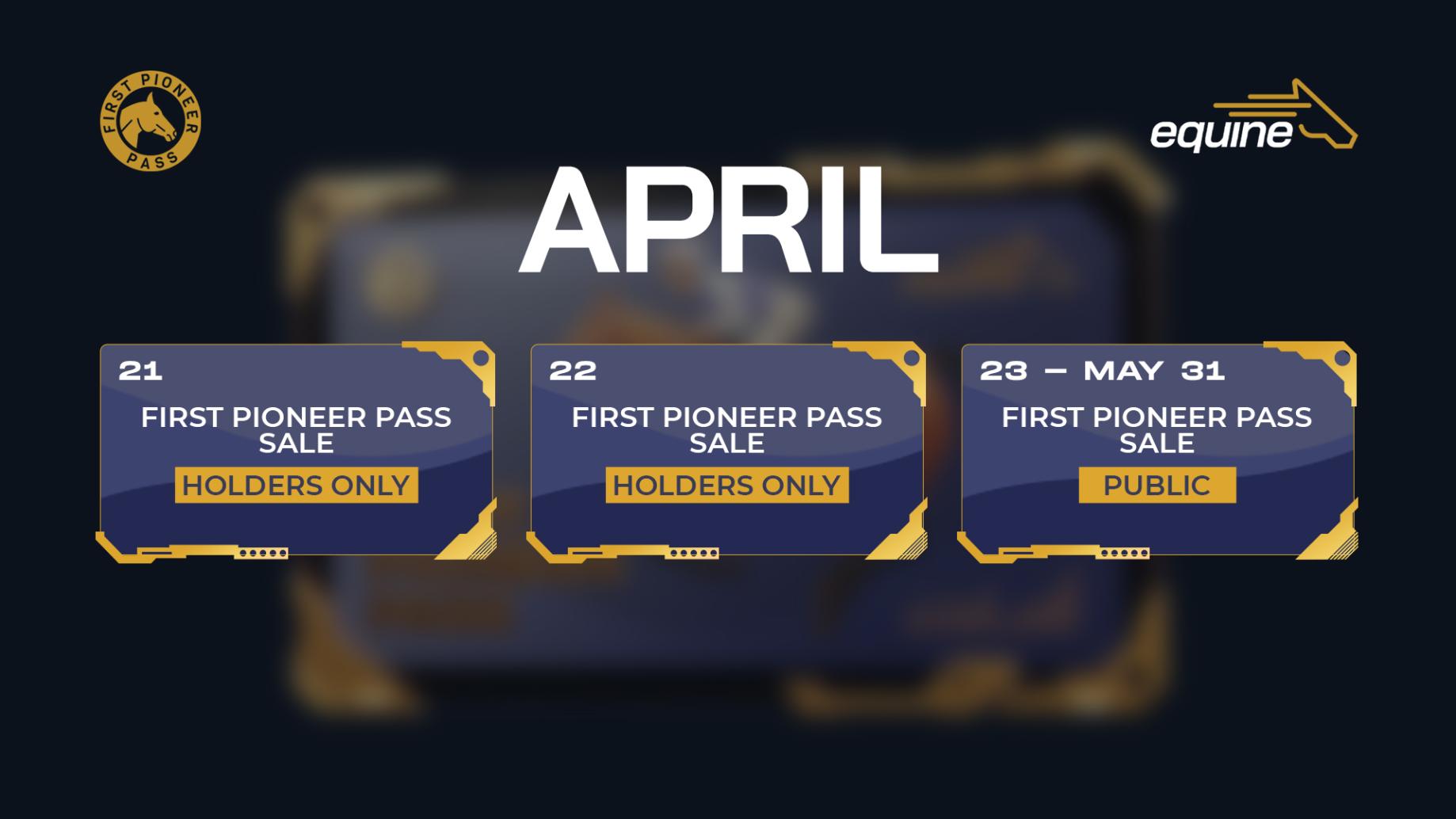 To secure your First Pioneer Pass, be sure to follow our official Equine Discord announcement channel and Twitter account for detailed sale instructions. Early minting for Pioneer Horse holders will take place on April 21st and 22nd, with public sales starting on April 23rd. Please be vigilant and avoid falling victim to scams by only purchasing from our official minting service provided by Fencemaker – the specific sale address will be shared here in due course and the start time of the sale will be at 14:00 UTC.
We are incredibly excited to offer this exclusive pass to our community and cannot wait to see our players enjoy using them. We are grateful for our supportive community, whose unwavering enthusiasm motivates us to keep developing our game on the Cardano blockchain.
Activation
Once the racing feature is released, your pass will automatically be activated, regardless of whether you have activated any of your horses or not. This means that you can start enjoying the exclusive perks right upon launch, and they will remain valid for a period of 16 months.
Every month, all passes will be replenished to 10 utility points that can be used for the different pass-offered perks, such as free race entries, breeding discounts, stud vouchers, or exclusive skins.
It's important to note that if you don't use your points in a given month, they will not carry over to the next month. Just be sure to take advantage of all the points that come with your pass before they expire.
Summary
Owners of the First Pioneer Pass will have the opportunity to pick and choose their own preferred perks using the 10 Equine Utility Points provided. These points can be used exclusively for races, breeding, skins or a combination of any of these perks. With this level of personalisation, owners will have the opportunity to get a head start in the Equine NFT game.
Whether you're an experienced owner or a newcomer, the Equine Pioneer Pass offers a plethora of perks that cater to all types of players. Get your First Pioneer Pass today and experience the world of Equine NFTs like never before.
Read more on from the FAQ Article!
Previous article
Meet the Equine Pioneer Jockey Collection
Next article
Equine First Pioneer Pass and Sale FAQ: Everything You Need to Know!